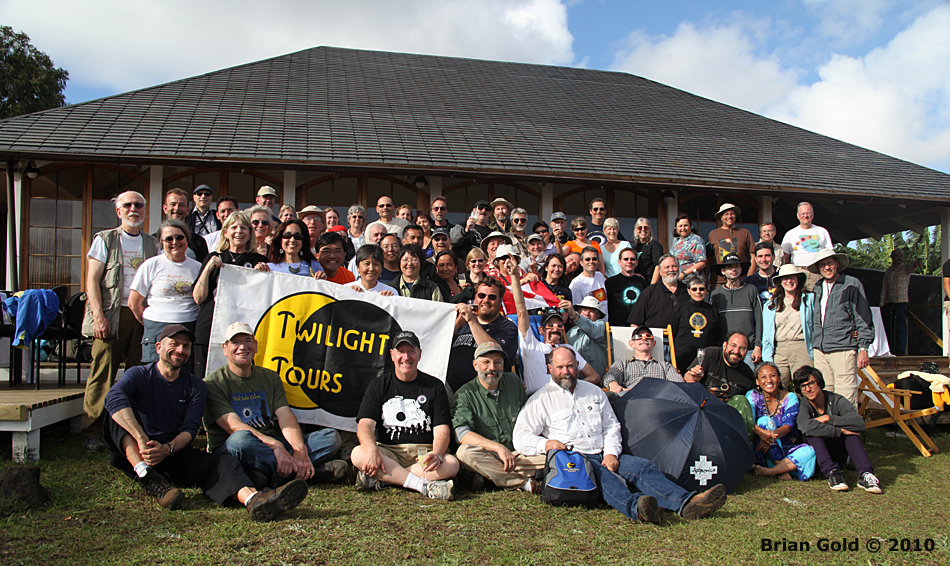 Success!! On Sunday, July the 11th, 2010, the participants in Twilight Tours' great Easter Island solar eclipse tour enjoyed a marvelous 4 minutes and 40 seconds of totality on the grounds of the Altiplanico Hotel, just North of the town of Hanga Roa on Rapa Nui ---- Easter Island.
The day before, weather prospects were very dreary, punctuated by the daylong presence of rain showers, heavy overcast skies, and long faces on our eclipse tour members. Tour Director/Twilight Tours President Joel Harris, however, maintained a "sunny" outlook, and continued to reassure tour participants during the two pre-eclipse briefings that were held on Saturday that "this too will pass", referring to the cold front that was causing some tour members to briefly consider kidnapping Joel and throwing him into the extinct Orango crater to the south of the city.
Sure enough, tour members awoke the next morning to strong westerly winds that pushed the cold front far to the east of the island, leaving behind only remnants of scattered cloud as the hour for first contact neared. By the time the partial phases of the eclipse started (about 12:30 PM local time), largely clear skies prevailed over the observing site.
At second contact, and throughout totality, the tour members were treated to a clear view of totality, punctuated by the presence of Venus, Mercury, Sirius, and Canopus, attending the fully occulted solar disc, some 40° above the west northwestern horizon.
As a special "added feature", a small translucent cirrus cloud passed over the sun just as 3rd contact occurred, providing a natural projection screen for perennially elusive shadow bands to be photographed/videoed by a number of our tour participants….
Following 4th contact, all 94 members of the tour gathered for a traditional Chilean "Curanto" or cookout, with copious epicurean delights and treats, along with plenty of "high octane" Pisco Sours to wash it all down with.
All in all, the perfect end to a wonderful day and a memorable eclipse in a very special, one of a kind venue!!
More photos by Dave & Jean Kodama