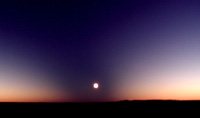 [Left] Digital camcorder photo by Greg Buchwald. Click on the photo to see a larger view.
Joel Harris reports from Ayers Rock three days after the event, that he and his expedition were successful in observing the total solar eclipse. Click on the photo at right to see Joel's eclipse photos.
The eclipse occurred on Dec. 4 at 9:11:12 UTC, or 7:41 PM local time where it was observed by the group (South Australia). The expedition was located at an observation site just north of centerline, near Lyndhurst, South Australia. By their measurements, totality lasted ~27 seconds under a breezy, but warm, cloudless sky.