---
The 7704 focal reducer set converts the Borg line of scopes into fast astrographs optimized for digital sensors, yet capable of covering a full 35mm frame:
77EDF6.6 -> 77EDF4.3
101EDF6.4 -> 101EDF4.1
125EDF6.4 -> 125SDF3.9
The 7704 set includes a built-in filter holder as well as a camera rotator for flexible image composition. Provision for the attachment of filters is via a 55mm diameter filter thread on the front reducer lens assembly (for semi-permanent filter installation) and via an easily removed filter holders which accomodate 52mm or 48mm filters. A camera shutter cable can be attached to the focal reducer assembly to make removal of the filter holder a simple operation which does not disturb the optical train. Additional filter holders [7518] are available for quick changes between filters.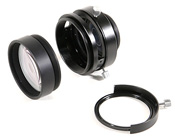 Part #7704
F4 ED Super Reducer Set including Filter Box, Camera Rotator and Spacer Rings
2015-09-22