---
Mini Borg tube band pair, with 1/4"-20 threaded socket at the bottom and M6 threaded socket at the top. A 3105 adapter may be used to interface the M6 socket to cameras or compatible accessories.

Dimensions of the tube band are 30mm width and 60mm ID. The ID is compatible with the Mini Borg drawtube (white tube section) as well as the M57/M60 extension tubes (7601, 7602, 7603, or 7604) and Borg's family of 2" eyepiece/accessory holders (7505, 7508, and 7509).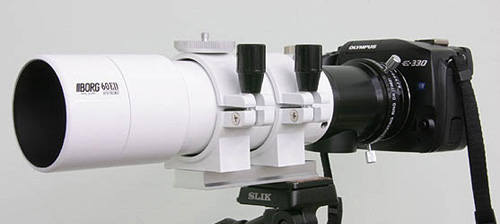 Tube bands on Mini Borg used as an imaging scope.
Tube bands on Mini Borg used as a guide scope.



The tube bands are also available as single units (7061).

Part #7060
Tube Band for Mini Borgs and guide scopes
2017-03-14