Hutech AZM-100
Motorized Alt-Az Mount
The Hutech motorized mount is a light-weight alt-az mount (AZM-100) capable of carrying up to a 3 kg load and supplied to be mounted on a standard 3/8-16 thread photographic tripod. The AZM-100 may also be mounted on a photo tripod with 1/4-20 threads with the use of a thread-adapter insert. Electric slewing in both axes allows for easy centering and tracking of objects without the vibration caused by manually manipulating the tripod.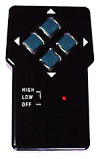 This product is ideal for light-weight scope owners who desire the smooth movement of electric slewing but do not need a heavier astronomical equatorial mount or wish to use the mount for terrestrial viewing.
Camera-standard 1/4-20 screws allow the mounting of light-weight scopes with or without rings (two screws separated by about 3.7" are provided). In addition, standard cameras, camcorders, and binocular mounts can be accomodated.