Feather Touch Focuser
Starlight Instruments' Feather Touch Crayford focusers are available as an option for all Borg scopes from the Series 80 up. These focusers feature an internal braking system.

A scope adapter (part number FTF-BORG) allows the focuser to attach to Borg OTA's as follows:

To the Series 80 draw tube
Directly to Series 80 tubes (i.e. no draw tube) via Borg adapter
7801
To Series 115 and 140 tubes via Borg large draw tube 8318

The FTF-BORG adapter also allows attachment to other types of telescopes are as follows:
M57 Version of Feather Touch Focuser
For Borg and many other Japanese-made telescopes, a version of the Feather Touch Focuser with a metric M57 interface is available. Use of this coupling allows for the direct attachment of many available Borg accessories and has the additional benefits of providing a larger opening with a very rigid connection, compared to coupling with the alternative 2" nose-piece coupling.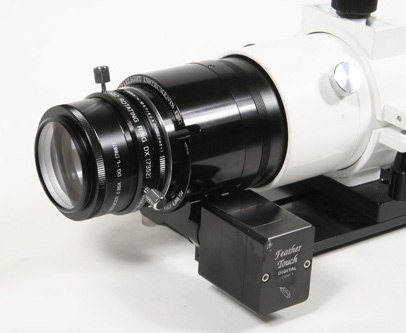 Above, the M57 Feather Touch Focuser is shown in a photographic configuration with Borg camera rotator ring 7352, 0.85x focal reducer 7887, and the available motorized focuser option. For visual use, Borg M57 extension/2" accessory holders such as part #7504 may be substituted for the rotator ring and focal reducer.


3.5" Focuser Adapter

This accessory interfaces to the Feather Touch 3.5" focuser on large scopes (such as those produced by TEC) and allows the use of Borg M57 accessories.