Ultra-Compact system for short-exposure film or digital astrophotography:

Lunar photography, including lunar eclipses.
Solar* photography, including eclipses and transits of Mercury or Venus.
Planetary photography

Good for widefield deepsky piggyback photography too.
Convenient visual observing with a star-tracking mount.

Economical starter scopes - Borg 76mm or 100mm Achromat
APO performance for experienced observers - Borg 76ED or 100ED
Dozens of Borg photographic accessories available.
Precise, easy-to-use polar alignment scope is standard equipment.
Tripod options - Use the ultra-compact, lightweight Kenko tripod, or a standard photographic tripod.
* Front aperture solar filter required.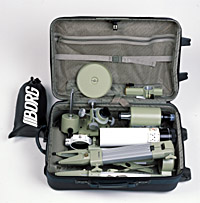 Borg 100ED / Kenko Portable Photo system.
[Left] Packed and ready to go as carry-on luggage! The camera (not shown) and objective (in black carrying bag) have been detached and carried separately as an extra precaution.