100 mm (4") ED High Quality Objective, (Made in Japan), F6.4 focal ratio.
F4 photographic option available.
User-upgradeable to 125mm ED objective.
Dozens of visual and photographic configurations and accessories.
Photographic configurations allow for full coverage of medium format film.
Tube disassembles into short pieces for convenient transport.
Light weight OTA makes for a lighter total system.
Cases suitable for automobile transport are available. F6.4 configurations (hood to focuser) are accomodated as a single assembly for convenient setup.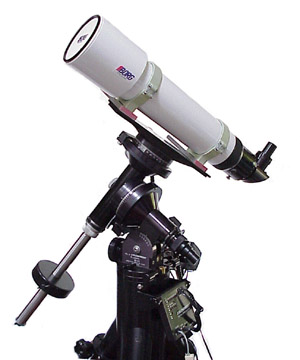 Borg 100ED medium format photo / visual configuration (115mm series) shown on a Losmandy G11. Losmandy mounts are also available through Hutech.