The flexibility of Borg components combined with the creativity of our users leads to some interesting systems, which we present to you to get your creative juices flowing. Enjoy! [Click on photos for enlarged views]
---

Robofocus for Borg Series 80 Scope
by Brady Johnson.
Brady has adapted a Robofocus unit for use with his 76ED helical focuser. Click on the photo for details on Brady's web page.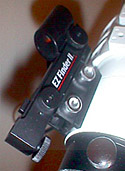 Borg series 80 OTA with red dot finder
by Pat Agnew.
Click on photo for details.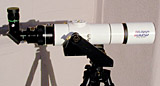 Borg 76ED on a Telepod by J. Metzger. The standard finder base section was replaced with the 50mm mini tube [7050], just behind the objective, and the mini-drawtube [7201], just behind the focuser. This resulted in improved balance for this setup.

Borg series 80 tube mounted on Nexstar 80 mount on a photographic tripod [Mike Batchelor]. Borg OTA for quality views, Nexstar go-to capability, and light-weight stability and adjustability of the photo tripod make this a winning combination.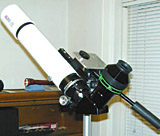 Borg series 80 OTA with a JMI NGF Crayford focuser allows Jonathan Dietch to eat his cake and have it too -- a good solution for those who have been raised on rack & pinion type focusers. Click on the photo to get a closer view of the back end.

Customized Borg 100ED Solar Telescope by Daniel Provencal. Click on the photo at rght for details.